When the intrepid Thames Marathon swimmers take to the water in August some will have more than just the swim ahead on their minds.
Because tied up in the event, as with so many sporting fixtures, is charity support. For many, raising funds for a good cause is as much a goal as completing the course itself.
We're thrilled that Henley Swim – which organises the Thames Marathon – has chosen SwimTayka as one of its charity partners. Which means that among the hundreds take part are a bunch of enthusiastic swimmers whose every stroke will help raise money for our fantastic drowning prevention programmes.
One of SwimTayka's supporters is Alice Bunn, who, along with her son, Tom, will be at the start line for the Thames Marathon on August 15.
She blames the pandemic for the "moment of madness" which made her decide to take the plunge.
"Lockdown does this to you, you get so stir crazy, so when you see an email from SwimTayka asking for people to sign up for the Thames Marathon then of course at that moment it is exactly what you need!"
Joking aside, Alice, aged 48 and a mother of four, is a keen swimmer.
"I have swum since I was a kid. It was my sport as a teenager, I wasn't great but I was competent and got to county level. Most importantly, I enjoyed it and even when I stopped competing at about 15 or 16, I still swam. I've always been much more likely to go for a swim than a run."
Alice's stroke was breaststroke, but she soon switched to freestyle when she discovered open water swimming.
"I'd signed up to do a triathlon, which in fact was in a swimming pool at Crystal Palace. I then did another which was in open water at Hever Castle. I quite enjoyed it but, if I am really honest, swimming was the only element I could tackle with any level of competence. So I dropped the triathlons and carried on open water swimming."
Alice frequents swimming lakes in Sevenoaks, and found during the pandemic (in the weeks and months when it was allowed) open water swimming was a real boon.
"Seeing a long line of people waiting to go into a massive lake, two metre distanced, on a beautiful summer's day is an abiding memory and it's a lovely one."
What made it more special is Alice's oldest son Tom – 16 and glued, as teenager's are, to screens – decided one day to accompany her to the lake, and was soon equally hooked.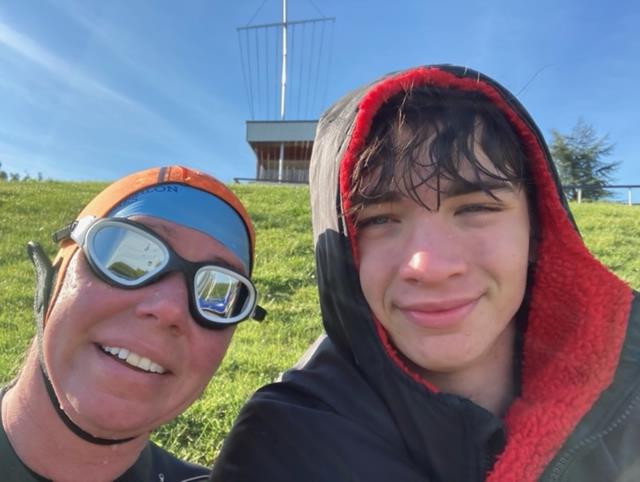 Together, they will be swimming the Thames Marathon as a relay. Their training is now well under way, with a mix of open water and indoor pool.
So why did Alice choose to swim in aid of SwimTayka?
"I have always been so impressed with what they do. I can't really take part in their volunteering overseas due to family commitments, but this is something I could do. Tom, though, is really keen on the idea of joining one of the programmes once he has completed his A-levels, so this is a great start to our involvement."
And for Alice there is also a personal interest in drowning prevention. As a child, living in Scotland, her father was with the coastguard. She well remembers the day when two children drowned – an event which shocked the whole community.
By fundraising for SwimTayka, Alice and Tom will be doing their bit to help a really great cause – drowning prevention among children. If you'd like to support them and boost Alice's sponsorship, she has a JustGiving page at https://www.justgiving.com/fundraising/alice-wood23.
Or how about taking part yourself? There is still time to get the training in, and we have a few places left that Henley Swim has kindly donated to SwimTayka. By taking one of our allocation you won't need to pay the registration fee, but you commit instead to fundraising for our fantastic charity. Find out more here.
And if you'd like to find out more about what we do and how to get involved, we'd love to hear from you.